The Endicott men's and women's hockey teams begin play this Saturday and with a barrage of players returning from last season and lots of talent to put forth, the Gulls are primed to take the ice.
It's safe to say the men's team has made it very difficult to play at the Raymond J. Bourque Arena with an astonishing 30 wins throughout the last three seasons. The team will aim to defend home ice once again on Saturday against Norwich with a puck drop of 4:00 P.M.
Returning from last season is Senior Josh Bowes who notched an impressive 29 points a season ago. Bowes has increased his goal and assist totals every season dating back to his freshman campaign in 2015 and looks to continue his success this season both individually and as a team.
"We want to take it game by game… we all have big goals," said Bowes.
Taking the ice alongside Bowes is fellow senior Lloyd Hayes who has recorded a positive plus-minus in each of his three seasons for the Gulls to go along with 11 goals. Hayes has made it clear just how much he appreciates the support on campus and looks forward to lacing the skates every night.
"It's a blast especially those big games, you got the school behind you… the arenas are loud," said Hayes. "It's a better time for everyone."
The Endicott women's hockey team is also coming off a successful 2018 run in which they held an overall record of 19-6-2. The season didn't end as planned as the Gulls were eliminated in the championship game by Morrisville State. The team will travel to Southern Maine to battle the Huskies at 4:00 P.M. this Saturday with hopes of picking up where they left off.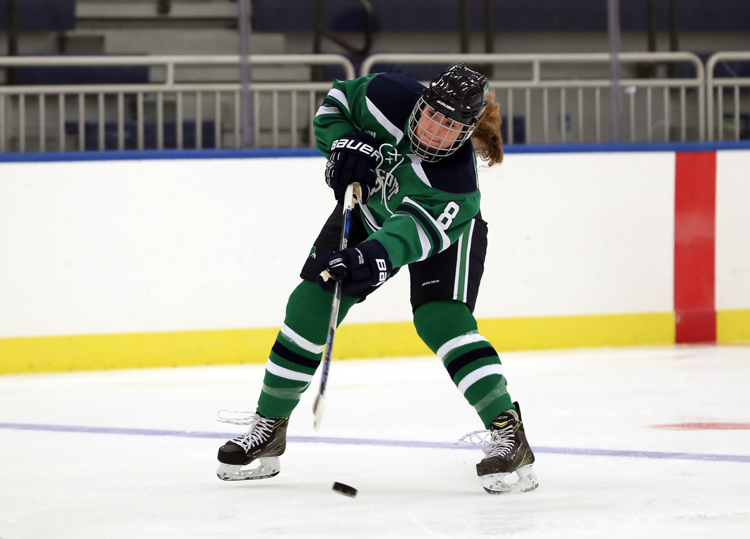 Lauren Ferraiuolo begins her sophomore stint with the Gulls after collecting four goals and seven helpers a season ago. She received CHC All-Rookie honors in her debut season from the defensive position. Ferraiuolo also added how much her game improves courtesy of the Endicott faithful and looks forward to representing the Gulls every game.
"It's awesome when you see people in the stands just cheering you on… you get a lot of energy from it," said Ferraiuolo. 
Lexi Klein takes the ice for her senior season and has been a big contributor for the blue and green the last three seasons racking up a total of 26 goals, seven of which were game winners. Her individual play earned her a spot on the CHC All-Tournament team last season and she can't wait to find chemistry with her new team on Saturday as the Gulls have welcomed five new freshman to the mix.
"It'll just be a good starting point to see where we are as a team," said Klein. "I think everyone's really excited."
The men's and women's teams gave the Endicott fanbase lots to cheer about last season with a combined 37 victories. The two clubs look to forget the devastation of last year and aim to take home more championships this season for all who support Endicott College.