Since beginning the season with just one victory in the first three weeks of play, the Endicott football team has poured in five straight wins and aim to finish the season as advertised.
The success began with the Gulls squeezing out a 27-24 victory over Hobart in late September, since then the blue and green have added to that with another four victories with an average winning margin of over 30 points.
This is head coach Paul McGonagle's debut season with the Gulls and he has his team recording wins in style with an astonishing 36.8 points per game and over 447 yards per game. Especially important for Endicott, is that the team is undefeated in conference play as last season the team suffered three conference losses on their way to a 3-7 season.
With the team delivering win after win to campus every Saturday, it can be difficult to keep up the production no matter the opponent. However, according to McGonagle, it's about focusing on the next opponent and not looking too far ahead.
"We're week by week… it doesn't make a difference what you did the week before or going forward it's what we have to do this Saturday," said McGonagle.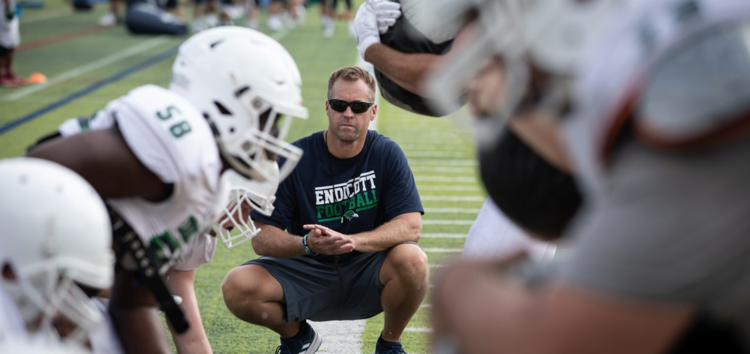 McGonagle added how much of an impact the upperclassmen have made on this team, one of them being junior quarterback Joe Kalosky. In the six games he's been under center, Kalosky has tossed 1,198 yards along with 15 touchdowns. He's also rushed for two touchdowns himself on the year and has been one of the driving forces to the Gull offense.
The team has received production from a barrage of players this season. Three players have at least three sacks on the year and four players are averaging north of five tackles per game, headlined by linebacker William Rivera with 9.5 tackles per contest.
Kalosky feels that each player accepted their role early in the season and everything has transitioned smoothly ever since. "The locker room has been great, everyone's bought in and we're on a roll now," said Kalosky. "Everyone has taken their own leadership role."
Kalosky also expressed his and the team's gratitude towards the Endicott faithful and how much they have had an impact on the success of the season. The Gulls are 3-1 at home and even held the first-ever Friday night game at Endicott College.
"Personally I love a packed crowd and I know our locker room loves having people there," said Kalosky.
The campus has been buzzing and fan expectations rise every week, but the Gulls still have to defend Hempstead stadium two more times with hopes of carrying their momentum further into the season. They welcome Western New England this Saturday in what should be a high-scoring affair as the Golden Bears come in with a 7-1 record and have racked up 275 points in their last five contests. Western New England prevailed in last year's game 41-14. Kickoff begins at 12:00 P.M. where the Gulls look to enhance their win streak to six games.